About Wofford and Us
About Wofford College
Wofford College, located in Spartanburg, South Carolina( 71 miles from Charlotte, 90 miles from Columbia, 170 miles from Atlanta and 29 miles from Greenville), is one of the South's premier Liberal Arts Colleges. Students benefit from a strong commitment to academic excellence, innovative teaching, and experimental learning opportunities. As a Phi Beta Kappa campus, Wofford offers a culture of academic challenge and support that consistently produces some the most influential graduates in the country today. Athletically, Wofford competes in the Division 1 Southern Conference, one of America's top tennis conferences.
Wofford College is the perfect setting for tennis camp. The beautiful campus with more than 4500 trees is safe and inviting. The Reeves Tennis Center, home of the Wofford College tennis teams is used for the majority of camp as well as the Richardson Athletic Building, home to the NFL's Carolina Panthers training facility and the Wofford College athletic teams.
What they say about our camp:
My girls loved the tennis camp. When I picked them up, my youngest told me she wasn't't leaving until I signed her up for next year. I had heard that you run a top-notch tennis camp and now I now that it is true. I am telling others about your impressive camp and the awesome staff.
L.W – Mother
Thank you very much for a great tennis camp for my sons. They both enjoyed it very much. They were really ready for some good technical help and made great strides from beginning to end.
– B.N. Father
I just talked to my daughter and she was so sad she had to leave. She went to a different camp last year and said that this year at Wofford was her favorite.
L.B – Mother
Rod, Just wanted to let you know that my son thoroughly enjoyed camp last week. He met lots of new friends who all vowed to come back the same week next year. His confidence was definitely built up even during this short period of time.
K.E. – Mother
My daughters had a great experience this year and last year. You can count on them coming back next year: they wouldn't miss it for the world.
M.M – Mother

​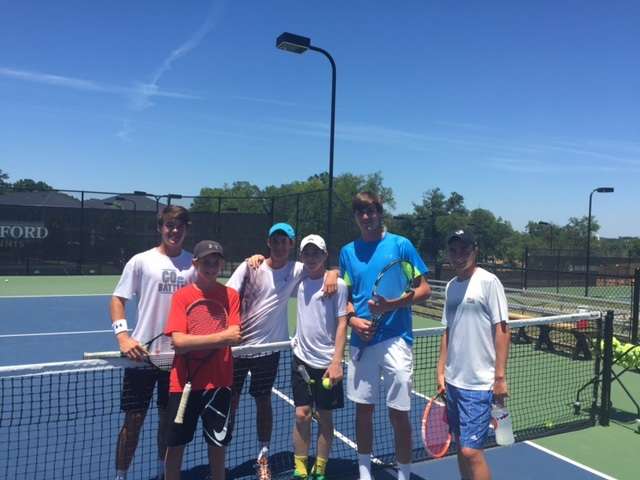 My son said that you had the best tennis program he has ever attended. Over the last few years, he has been to five different tennis camps and he likes yours the best. He especially enjoyed your coaches.
Thanks for an amazing week. All of my children had a wonderful time. They all agreed that Coach Rod is never down…this speaks volumes.
LW, Mother
Thanks for a great camp. I know you hear this all the time, but this is such a great camp for my daughter. The personal attention is greatly appreciated.
JS - Mother