Staff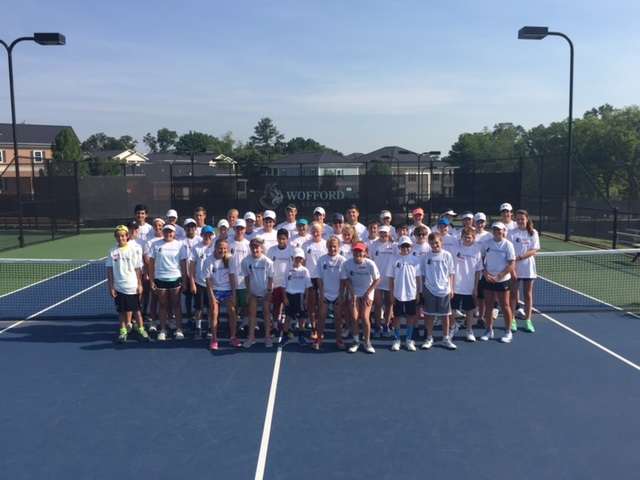 Camp Staff
Rod Ray
Rod brings his highly competitive, compassionate, and enthusiastic coaching style to you. In his 23th season as the head tennis coach at Wofford College. He also served as the Terriers' head women's coach for eight years. Ray took over the Wofford tennis teams in 2000, three years after the transition to Division I, and transformed it into a winning program. Ray's teams are known to compete hard and show good sportsmanship.
Ray came to Wofford from the Topspin Racquet and Swim Club in Lexington, S.C., where he served as the tennis director for nearly 10 years. He has been a prominent fixture in South Carolina tennis, serving as coach for the South Carolina Junior Davis/Federation Cup Team, USTA Junior Player Development Program, Zonal Coach, and as president of the South Carolina Tennis Professional Association. In 1998, Ray was named South Carolina Tennis Association Professional of the Year. Ray loves developing players and never quits learning and growing. Certified by the USPTA, he has obtained a Professional 1 rating.
Ray's players have won distinguished academic, athletic, and leadership awards. They have developed into fierce and well equipped warriors that make a difference on the court and in life.
Ray and his wife Merritt, have two children Cole and Ashe.

Coach Krissy Hall
Wofford College named Krissy Hall as women's tennis coach on May 24, 2012. Hall, a native of Spartanburg and a Dorman High School graduate, has Thirteen years of experience as a head coach at the Division I level.
Prior to Wofford, Krissy Hall served as the head coach at UAB for four years. While at UAB her teams were successful both on the court and in the classroom. In 2011 her squad earned the Conference USA Sport Academic Award as the women's tennis program with the highest GPA in the league. It was the first time any team other than Rice won the award since its inception with the 2006 season.
Hall came to UAB in the fall of 2008 from the University of Wyoming, where she led the women's tennis program for the previous three seasons. In her final season at Wyoming, Hall guided her team to 11 wins and a first-round victory in the 2008 Mountain West Conference Tournament. The 11 wins matched the most in school history.
Prior to her appointment at Wyoming, Hall served as an assistant coach at both Virginia Tech, her alma mater, and Washington State. She was at Virginia Tech for the 2003-04 season, including a short stint as the program's interim head coach. Her responsibilities with the Hokies included coordinating recruiting efforts, organizing practices and assisting with the day-to-day activities of the program.Hall then went to Washington State as an assistant for the 2004-05 campaign. In addition to the responsibilities she held at Virginia Tech, she also handled scheduling and budgeting for the Cougars.


Sr. Staff Members
The camp staff members include coaches and teachers who have worked with Coach Ray at his camp for many many years( Up to nine years in some cases). They include the finest group of people...they are teachers, coaches, and professionals who "get it." The quality of teaching and instruction is nothing less than spectacular because of our team of coaches.
"I consider it the greatest honor to work with so many fine people who enjoy coming back to work with me at camp. These are the greatest people and many of my dearest friends who I always learn from. I learn the important stuff from them and so will you."--Coach Ray
We have the perfect balance of college coaches, teaching professionals, and outstanding college players.